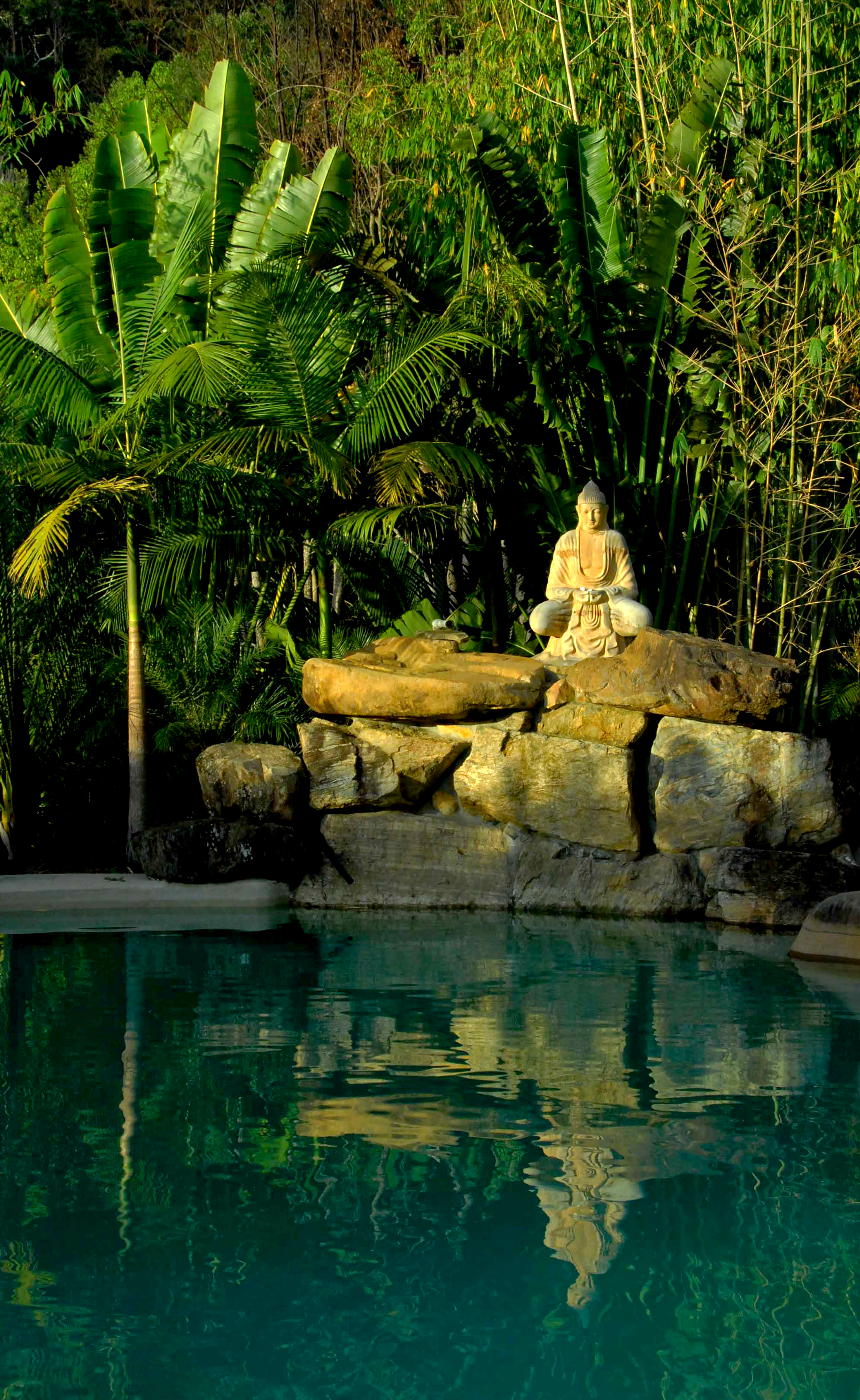 Spend seven days at Gymea Eco Retreat in the Byron Bay Hinterland from June 28th to July 4th 2019 immersing yourself in the practices of Meditation, Mindfulness and Movement.
This retreat is lead by Cassie Thomas (yoga teacher), Venerable Shih Jingang (Buddhist Priest of the Nien-Fo Ch'an Order of Monks) and Jessica Maguire (mindfulness meditation and Pilates teacher).
Parts of this retreat will be spent in noble silence to allow a full immersion into the teachings.
Explore healing practices that bring together
Heart, Body and Mind.
Yin Yoga: Fully come home to the body in each session. Yin is a slow paced stlyle where asanas or poses are held for a sustained time.

Hatha Yoga: Includes the practice of asanas and pranayama, which help bring peace to the mind and body, preparing the body for deeper spiritual practices such as meditation.

Dynamic Pilates: Find your centre using flexibility, muscular strength and endurance movements. Pilates emphasises proper alignment, core strength and muscle balance.

Mediation: Cultivate an awareness of the freedom and clarity that is available when we open our hearts fully to the present moment.

Dharma Talks: Cultivate the Heart-Mind connection through the life and teachings of the Buddha.

Ritual and Ceremony: Inquire within your heart to find out what new intentions you would like to set for your life and all that you are ready to let go of.
All movement sessions offer progressions and regressions and alternatives if you have any aches and pains. This retreat has been designed to serve both experienced meditators and beginners. We welcome men and women 18 years and older.


Mindfulness and Meditation
Insight meditation gives us the opportunity to see clearly the reactions and distortions that arise in our daily life and to cultivate an awareness of the freedom and clarity that is available in each precious moment.
Insight and mindfulness meditation techniques allow us to cultivate a greater understanding and deeper wisdom.
Those meditators with an established practice can look more deeply into the meditative process itself and bring more ease and acceptance into their sittings.
This retreat welcomes men and women 18 years and older, regardless of meditation, yoga and Pilates experience.

About Gymea Eco Retreat
Gymea Eco Retreat is positioned on 113 acres of secluded, undulating rainforest with stunning views of Mt Warning (UNESCO World Heritage national Park). Gymea is positioned in the heart of Australia's Green Cauldron, an iconic landscape identified as one of the creative and spiritual heartland of Australia. It is approximately a 50 minute drive from the centre of Byron Bay.
Room Options
Single room (room and ensuite to yourself) $2200
Twin share room (sharing with one other person) $1950 per person
We are happy discuss room allocations with you if you are travelling alone and wish to share a room. If you are travelling with someone please advise who you would like to share with.




Retreat Day Spa

Healing Spa offerings include Massage & Organic body treatments, Sauna, Steam room, Plunge Pool and you can enjoy our wonderful hydrotherapy Spa.
A 60 minute massage and plunge are included to help your body unwind.
Nourish

This retreat includes gourmet vegetarian meals. Tea, coffee and snacks are also included in the price. This retreat is alcohol free.
What's included?
Seven days of teachings. This includes yoga, Pilates, meditations and Dharma talks

Exclusive accommodation at Gymea Eco Retreat centre

Gourmet vegetarian meals, snacks and refreshments

Welcome evening fire intention ceremony

60 minute massage

Spa session

Use of the magnesium healing pool

Transfers from Gold Coast Airport (leaving at 2pm)

One to one interviews with retreat leaders about your practice

Up to 2 hours of self guided walks
PRICE:
Single room $2200
Twin share $1950
What's a Typical Day Like on This Retreat?
7:30am Yin Yoga
9 - 9:45am Breakfast
9:45 -11:15 Mindfulness Teachings and Practice
11:15 - 1pm Free time for Spa Treatment, Massage or Bush Walk
1 - 2pm Lunch
2pm - 3:30pm Dharma Talk
4 - 5:00pm Pilates
5 - 6pm Rest
6pm - 7pm Dinner
Each day will be different however it will include a movement and meditative practice plus three delicious, gourmet vegetarian meals.
"...the path and the purpose are one." (Excerpt from: A Sparrow Splashing by Ven. Shih Jingang. Published by Ginninderra Press)
Venerable Shih Jingang is a Buddhist Priest of the Nien-Fo Ch'an Order of Monks, and is Resident Teacher of the Buddha-Heart Fellowship of Tasmania.
He was first ordained at 6 years of age as a Rabjung Monk of the Rechung Kagyu lineage, and was trained in the ways of the Mahayana and Vajrayana paths by his Heart Guru Venerable Lama Senge Tashi.
In later years he completed a three year solitary retreat, and then trained under teachers of various traditions until eventually finding a home in the unified Ch'an and Pure Land Buddhist tradition.
With over 45 years of training and practice, "Sifu" draws upon teachings from a range of Mahayana lineages. He is a member of the Australian Sangha Association (ASA), and Buddhist Contemplative Care Tasmania (BCCT); a CPE-trained Chaplain working in hospitals and hospice settings; and is an experienced Volunteer Firefighter. Sifu regularly holds classes, retreats, and is asked to speak at public and private events. He is known for his calmness, gentle compassion and good humoured teaching style.
Since 2006 Cassie Thomas has been dedicated to a daily practice of yoga, thriving on the physicality of Asana, the wonder of Pranayama, the basic goodness of Yamas and Niyamas and growth that can occur through meditation.
It is her belief that yoga has the potential to bring into the lives of those who practice it a greater balance, and awareness to the world at large. Cassie believes that the practice of yoga has the ability to bring greater clarity into daily life resulting in one simply being the best that they can be.
Cassie is the founder of Paraka yoga, which is based around the teachings of Tirumalai Krishnamacharya. The word Paraka is derived from the Tasmania Aboriginal word meaning to Blossom. It has meaning in Sanskrit, inhalation, inspiration. Throughout the retreat weekend Cassie will be using Vinyasa Flow with emphasis on dynamic movement and flow of breath, meditation and practices of eastern philosophy.
"There is a wonderful way to overcome difficulty and discover well-being and freedom. It is mindfulness." – Buddha
Jessica Maguire is a Mindfulness teacher and Physiotherapist based in Byron Bay.
She teaches the fundamental tools of mindfulness using inquiry, insight meditation, open awareness and heart meditations. These ancient teachings help those who practice to develop a stability of core well-being, a greater sense of present awareness and cultivate deeper insight and understanding.
Jessica has studied with Jack Kornfield and Tara Brach in California, completing the Mindfulness Meditation Teacher Training Certification. They are two renowned meditation teachers, psychologists and authors, influential in bringing eastern meditation practices to the west.
She also studied self-compassion with it's original researcher Dr Kristen Neff in Denver, Colorado and she has studied with Bo Forbes in London.
Jessica is passionate about helping people cultivate daily mindfulness and meditation practices to ease their suffering and bring a sense of well-being to their lives.

FAQ
Are payment plans available?
Yes. A $500 deposit is required to secure your place. The remaining balance is then made prior to the retreat.
What if I have an injury or have never practiced yoga before?
Cassie and Jessica will liaise with you prior to the retreat and offer you any assistance. They are able to discuss with you your individual needs.
Does "Noble Silence" mean I'll be in silence for the entire retreat?
Only parts of this retreat will follow Noble Silence. This is simply allow you to maintain a continuum of awareness throughout. There will still be time each day for sharing.
Where do I fly in to?
The nearest airport is Gold Coast Airport. Transport will be arranged in the early afternoon to shuttle you from the airport to Gymea Eco-Retreat. Departure time from Gold Coast airport will be advised closer to the date. Return transfers on day seven are also included.
What if I select the twin share option?
If you are coming with a friend we will ensure that you share a room together. If you wish to share but don't have a room mate we will pair you with another participant that has selected the twin share option. Please be aware that the showers position is not in the bathroom but open to the room - we are happy to assist in arranging shower times to ensure your privacy.
Can I have additional spa treatments?
Yes! Whilst a one hour massage is included in this package there will be free time for you to schedule additional treatments.
How do I sign up?
You can click on the ADD TO CART button above - seleting either the single share or twin share option.
Whilst we will do our best to provide you with your first preference, places are subject to availability and is a "first in best dressed" scenario! Please note that our retreats usually sell out well in advance.
Testimonials from 2019 Retreats
"A life changing experience that helped me realise the need for me to pay attention to myself and my needs."
"Thank you soooo much. With love and sincere appreciation."
"Blissful and calming. Wonderful space to feel trust and kindness."
"It was all a treasured moment in time for me. I guess my favourite aspect was the relaxed atmosphere with no pressure, how we were encouraged to listen to our bodies rather than conform to all aspects of the presentations. This allowed me to get the most out of the whole experience."